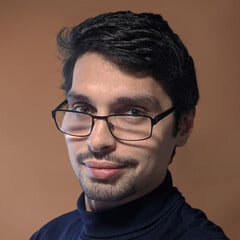 Adam Marlow
Junior 3D Character Artist - Gunfire Games
St. Clair Shores, United States
About
A 3D Character artist that focuses on a more realistic sculpting style. I digitally sculpt, 3D Model, and texture using the Realtime Asset Creation pipeline.
Programs used includes Maya, Zbrush, Adobe Painter, Photoshop, Marvelous Designer, Hardmesh, Marmoset Toolbag, and Unreal Engine.
Don't be afraid to reach out to me and ask me anything. When you learn, I learn as well. Be sure to also check out my blog for any exercises or project updates!
Skills
Anatomy
Rendering
3D Modeling
3D Printing
Character Modeling
Prop Modeling
Texturing
UV Mapping
Retopology
Photoshop
Maya
Vector Illustration
Zbrush
Game Art
Texture Baking
Cloth Simulation
Quixel
Substance Designer
3D
Low Poly
Marmoset Toolbag
Realtime
Hi Poly
Hardmesh
ZWrap
Software proficiency

Marmoset Toolbag

Illustrator

Keyshot

Mari

Maya

Nuke

Photoshop

Substance 3D Painter
Unreal Engine

ZBrush

Unity

TopoGun

Marvelous Designer

InDesign

Quixel Suite

RenderMan

mental ray

Pureref

HardMesh

After Effects

R3DS ZWRAP
Experience
Got on-board with the wonderful people at Hypgames to work on their next Mobile Game.

Got to work together with a sweet little team to work on miscellaneous Human Likeness, Clothes, and monitored designs of certain sports teams. Final engine use was Unity.

I was brought onto a project that is currently under NDA. My role was to create a Character that is Rig-ready based off a 3D Sketch that was passed onto me. I created smooth Edge-Flow Topology with UVs that will be passed to a Rigger. I worked with a Art Director and Producer to also create Clothes for the character.

• Digital modeling and texturing Characters and props to a in-game asset completion.

• Knowledge and ability to create organic and hardsurface models using Maya and Zbrush.

• Abilities to Retopologize and unwrap UVs for the asset pipeline. Keeping polycount in mind.

• Creating PBR textures with Substance Painter and Photoshop.

• Ability to interpret the given arts tyle and realize it into 3D.

• Organizing and tracking ways to keep asset pipeline smooth and efficient.